Northampton has a wonderful mix of classic, historic, and contemporary homes -- you can see by the
listings on Goggins' web site
what I mean. There are even a few eclectic beauties tucked in here and there. When I am looking to see some new home concepts, one source I turn to is
Houzz.com
, which features dozens of eye-popping creations. In the age of reduce, reuse, recycle, a growing number of savvy, creative souls are thinking outside the box to build beautiful, unique, homes.
Take, for instance, the sweet little house in Santa Cruz made from a streetcar -- one that once serviced the ocean-side city. Bright and colorful, it's a comfortable home that maintains its historic features. Train cars have been transformed as getaways, such as this cozy beach home in England.
Then there are shipping containers: Corrugated, rectangular boxes of steel -- who would think you could make much of a house from these? This Quebec build makes a believer out of me. Some modern home owners just start with something simple, like a trailer, and have the building take shape from there. Then there is the tiny house that is a trailer!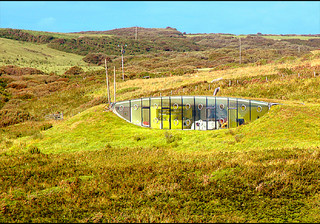 Perhaps my favorite is the
floating home in Seattle
. Chic, sharp, and elegant, it gives new meaning to "living on the water". But, if these types of houses are just not your style, perhaps
something more subterranean
is what you are looking for? Think of it as a metaphor for sticking your head in the sand, but in a good way.